DELLORTO ITALY
For three generations, DELLORTO has been focused on the production of air-fuel systems, always winning the Customers and market challenges. DELLORTO is a fully integrated company in terms of production and the headquarters in Cabiate perform the whole production process phases.
Innovation based upon experience and market analysis
01
Process orientated to cost efficiency in accordance with the national and international quality standards.
02
Manufacturing process orientated to product quality.
03
Tooling engineering for productivity optimization.
04
Continuous improvement of the capability process.
05
DELLORTO designs, builds and validates products dedicated to the applications requested by customers, manufacturing the relevant equipments.
FIND OUT MORE
Die-casting foundry
Equipped with machines for aluminum alloys die-casting with automatic management of the parameters and machines for zinc alloys die-casting with automatic unloading. Machining areas equipped for cutting deburring and shot blasting.
Mechanical machining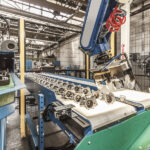 Equipped with dedicated and flexible rotary table transfer machines, both electromechanical and pneumatic, and machining centers for accuracy machining. Water-based and perchloroethylene-based washing systems.
Assembly
Composed of an area dedicated to products and components preparation, equipped with manual, semi-automatic and automatic assy-lines specific for each family of products and provided with the Poka-Yoke system. Dedicated area for product checking and flow.
Lathe and galvanic department
Equipped with CNC lathes, cam lathes and machines for galvanization, chromium plating and anodizing of components.
Tooling/Maintenance department
Created for supporting all the production process for tooling, maintenance and special prototypes construction, equipped with high-accuracy CNC machining centers, immersion electro discharge machines, CNC milling machines, grinding machines, welding machines, tool-grinding machines and furnaces for hardening and tempering.