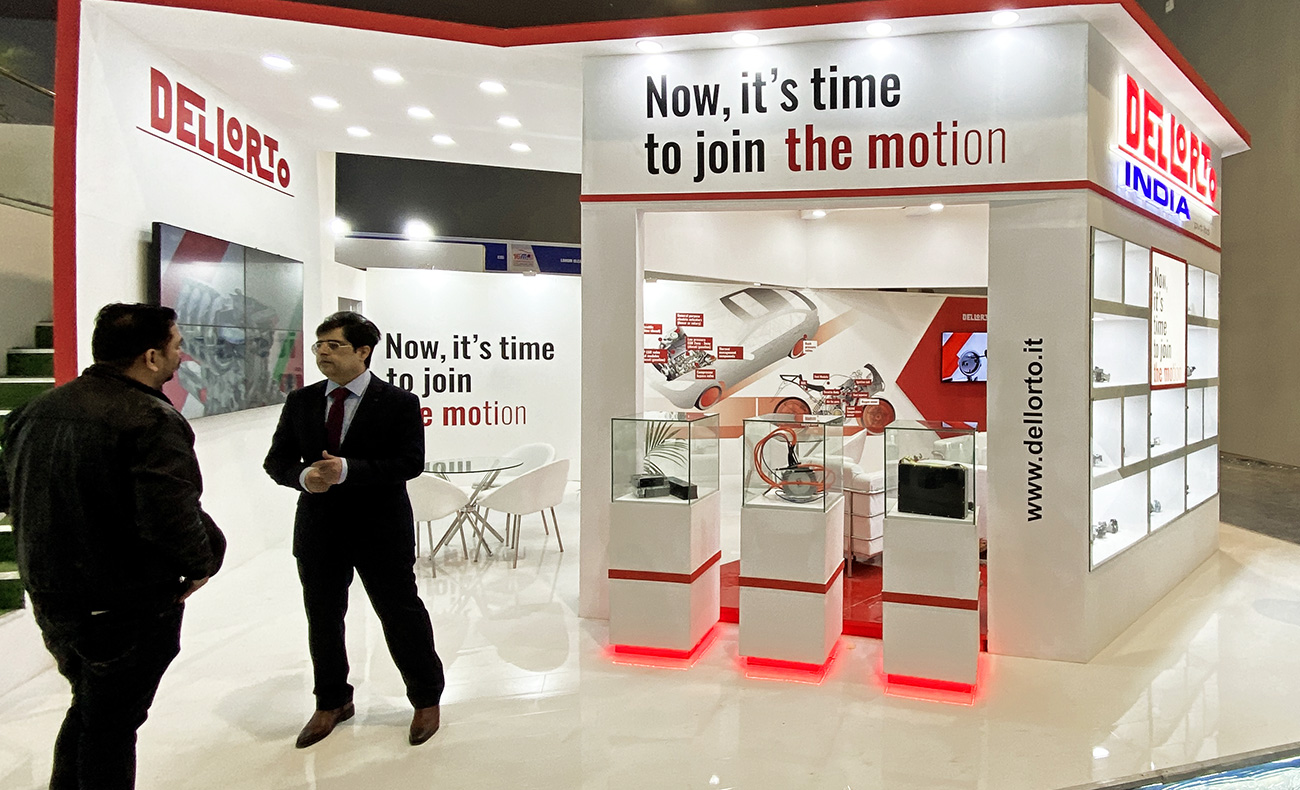 DELLORTO partecipa all'edizione 2023 di Autoexpo a Nuova Delhi
IT'S MOTION. It's Emotion. It's Movement. A word that highlights the DELLORTO's philosophy to presents itself full of news at this AUTOEXPO edition. A history of passion and attention to the future which is revealed to the public by bringing to light all that spirit of innovation that has always been in its DNA. From the racing world to urban mobility.
Starting with carburators for motorbikes, it then expanded its product range by designing and manufacturing throttle bodies, injection systems and electronic control units, up to innovative electrification projects.
DELLORTO, over the years, has in fact invested in research and has been able to be among the first to intercept and lead market demands.
The medium-term strategy for electric propulsion was defined in 2018, and as early as mid-2019 the E-POWER team was born, working tirelessly to develop the product range that is now available on the market. E-POWER equips a number of different vehicles, and, to name a few: the Fantic scooter, the Casalini quadricycle, the Platum kick-scooter and the Mondial electric motorbike.
With the E-POWER project, DELLORTO offers the market a complete range of ELECTRIC POWERTRAINS designed for the light urban electric mobility of the future: from 250W for the kick-scooter up to 15kW for the heavy quadricycle.
The project is designed to be highly integrated, modular, scalable and flexible at low voltage (<60V) and air-cooled to allow highly integrable solutions with various vehicle layouts and at competitive costs.
In addition to urban mobility, DELLORTO wants to pursue a transversality across industrial and leisure sectors where electrified solutions are already in place but are based on obsolete technology.
The aim is therefore to bring automotive logic into industrial sectors, such as small construction machinery, agricultural machinery, intra-logistics machinery, but also field such as marine industry, go-karts and golf karts.
DELLORTO's E-POWER system includes 3 sizes of inverters, all integrated with Vehicle Control Unit (VCU) and DC/DC functions, two sizes of batteries of 2kWh and 2.3kWh equipped with latest-generation 21700 NMC cells, capable of guaranteeing high energy density and the possibility of swap thanks to the weight (less than 12 kg).
The BMS integrated in the Battery Pack allows up to 8 batteries to be simultaneously managed without the need for master devices.
The motor range is designed with high torque density to allow a direct-drive architecture between the motor
and the vehicle wheel, saving efficiency loss and gearbox costs.
With the E-POWER project, DELLORTO is not only offering a product, but also an all-round service. Together with its partner REINOVA, DELLORTO is able to follow customers through all phases of the design of the electrical application, from performance simulation for the choice of powertrain, to system definition, interface with vehicle components, up to the application, testing, calibration and homologation phase.
There is already a clear trend on the market for small everyday vehicles to move towards electric traction, especially the 50cc and 125cc internal combustion vehicles used for daily urban mobility.
The electrification of these vehicles does not encounter any of the typical automotive barriers (recharging time, need for high-power columns, range not compatible with use, recharging studs in homes….) and will therefore have a significant development encouraged also by the policy of many cities, not only in Italy.
The urban mobility of the future will have to move towards a new paradigm that will see small, light, safe and reliable vehicles driven by a low-power interconnected electric powertrain in our cities, thus requiring low battery power.
Sustainable innovation for light urban mobility. E-POWER is the answer to the needs of the smart cities of the future.
Beside this new and important e-project, DELLORTO displays at AUTOEXPO the whole product range:
Injection Systems
Thanks to the considerable experience gained in MotoGP with the RSV Aprilia throttle bodies and with the moto3 ECU (Electronic Control Unit), at its third release, DELLORTO shows a complete range of electronic fuel injection components and systems for motorbike engines. The NEW Venice and Monnalisa electronic control units, which completes the DELLORTO ECU range, has been designed to meet the requirements of the next years and the EURO5 and BS6 regulations. The latest development includes the traction control, the start-and-stop and the OBD2 advanced on-board diagnostics. The DELLORTO ECUs support single- and two-cylinder engines, 2- and 4-stroke, with air or liquid cooling.
Throttle Bodies
The two product lines of mechanical throttle bodies and electronic throttle bodies are improved and expanded with innovative solutions.
For the mechanical throttle bodies, DELLORTO developed a compact air by-pass actuator and a 3-in-1 combined sensor that include the functions of contact-less TPS, temperature and air pressure sensor.
The electronic throttle bodies are available with different solutions for 1 and 4-cylinder engines. Thanks to a new-patented solution, it is possible to control the main throttle and a secondary throttle with a single actuator; this solution improves driveability and emissions at low speed.
Sensors
This year DELLORTO presents a complete range of sensors: TPS contactless –single and double output-, 3-in-1 sensor (TPS, temperature sensor and pressure sensor), dual map sensor for twin-cylinder applications and an innovative contact-less gear position sensor.
Fuel pump modules
A great configuration flexibility allows the DELLORTO fuel pump modules to be a reliable market player. They are available with pre-filter, fine filter, pressure regulator and level sensor and they can be fitted on top or below the fuel tank.
Exhaust valves
Dell'Orto is already producing exhaust gas recirculation valves for cars and now it has developed and industrialized an exhaust valve for motorcycle engines. The valve is able to optimize and enhance the sound of the engine. The exhaust valve is produced in stainless steel that withstands the high temperatures downstream of the catalysts, required for EURO5.
Electronic Carburation System
Beside the electronic ignition, DELLORTO goes on in the development of its patented ECS electronic carburation system, perfectly suited for 50cc mopeds and for engines with small displacements for the Asian market, which has recently obtained the patent in India, the most important market for production volumes in the world.
The DELLORTO components are not only used on motorcycles, but also on cars, commercial vehicles, industrial engines, snowmobiles, marine engines and karts. For the last one, DELLORTO proposes a system composed of ignition control unit, coil and carburetor.
"Now it's time to join the MOTION. A quote that represents the continuous will to innovate, not only in our core business such as the internal combustion engines, but also to face up to new challenges that future is bringing: green fuels with their enormous and often underestimated potential, or by pushing into sustainable urban mobility, which we believe will be one of the fastest growing sectors for the electric drive of the future. Now it is the time to enjoy the movement, taking full advantage of all the best that innovation has to offer us. "Now it's time to join the MOTION". Says Andrea DELLORTO | Vice President of DELLORTO Spa